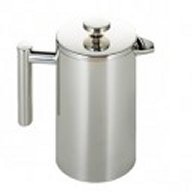 This stainless steel tea and coffee press is the best kitchen tool for brewing rich flavorful cups of coffee or tea. Simply measure out your coffee grounds, add hot water to the press and let steep for 5 minutes, plunge and enjoy!

• Double-wall construction- keeps coffee or tea warm & outside stays cool to the touch. It will keep your beverage hot for up to 2 hours.
• The ultra-fine mesh stainless steel filter keeps grounds and tea leaves out and doesn't hold or alter flavor. 
• The easy pour design and precisely fitted lid offers a smooth pouring spout to reduce spills or drips.
• Has a capacity of up to 32 oz - enough for four 8 oz cups.
•Dishwasher safe.