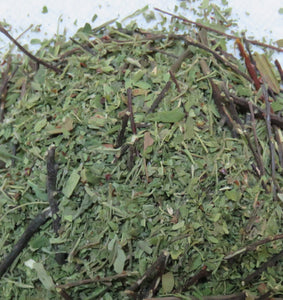 Botanical Name: Myrica gale 
Origin: Canada
Also called Bog Myrtle. The fragrance of gale is aromatic and similar to bay. The
taste is also similar, but with a strong bitter and astringent component. In the past, the fragrant leaves offered flavor even to those who could not afford costly import spices, consequently, the peasants of Central and Northern Europe made much use of gale. Its most important application, however, was the flavoring of beer. Leaves are sometimes used with berries for flavoring cooked dishes like soups, stews
and meat. In England, the leaves were used for flavoring ale. The Swedes put a sprig of gale into neat spirit, which they then leave for a couple of months before serving it with bleak roe, a special delicacy. The dried berries are put into broth and used as spice. Ethically wild-harvested in one of the most pristine areas on the planet.
Warning: Not to be used during pregnancy.