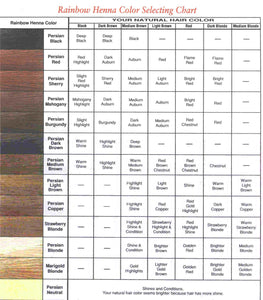 Bulk powdered henna, natural hair color and conditioner. The powdered leaves of the Lawsonia plant plates and protects the hair shaft, allowing color to be reflected through the hair while enhancing natural color. Regular use conditions and textures hair, giving it more body and shine; also covers gray. Its effects last up to 3 months. Follow included instructions carefully. Note: Does not lighten hair color.               
Short fine hair - use 2 to 3 oz.
Medium length hair - use 3 to 5 oz.
Long hair - use 5 to 8 oz.
Specify color:  Black; Light Brown; Medium Brown; Dark Brown;
Neutral; Marigold Blonde; Strawberry Blonde, Persian Blonde,
Copper; Red; Sherry.